Anatomy #2
Friday 28th September, 2012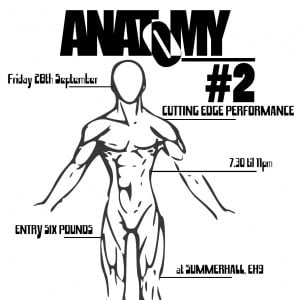 Venue: Anatomy Lecture Theatre
Category:
Ticket Price: £6
Tickets from the Summerhall Box Office
Further to the sell-out success of ANATOMY #1, Edinburgh's new night of cutting edge performance returns to Summerhall with another line-up of performance in all its wonderful and myriad forms.
Live film soundtrack, nauseous puppetry, tender dance, dystopian crooning, barnacled storytelling, experimental theatre and visual art combine in a truly unique and exciting event that. ANATOMY promises to build on its successful launch, which saw contemporary dance nestle with short films that then went on to Cannes, Vonnegutian theatre, live art and physical performance.