Anatomy 3
14th December, 2012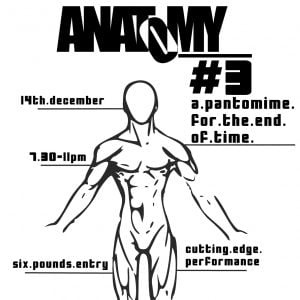 Venue: Anatomy Lecture Theatre
Category:
Ticket Price: £6
Edinburgh's night of cutting edge art returns to Summerhall with another line-up of performance in all its wonderful and myriad forms. A contemporary take on the music hall variety show, ANATOMY is a platform for performance artists of all disciplines. Beyond scratch, it creates a stage for risk-taking performance and breath-taking theatrics in Edinburgh's exciting new multi-arts venue, Summerhall, within a historic anatomy lecture theatre.
PANTOMIME FOR THE END OF TIME will feature theatre experimenters, dancers, music makers and destroyers, sculptors, story tellers, film artists, clowns, poets, photographers, mimes, installations, painters, weirdos and burlesques; the abstract, the comical, the terrifying, the sublime, the unfathomable, the beautiful, the life-changing and the oddly mundane.
If ANATOMY is somewhere that you and your art belong, please download the application form and return, completed, as a single file, by 9th November 2012 to: anatomynight@edinburghpeergroup.com
Selected acts will have access to rehearsal space in the week before the show, technical support, and a small expenses budget of £30.