Borcher Runway Show
19 August, 2012
20.00
(5 hours (including after- show party))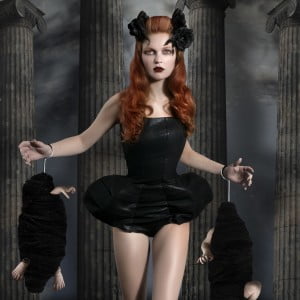 Venue: The Dissection Room
Category:
Tagged:
Edinburgh International Fashion Festival
Ticket Price: £16.00
/ £7.00
Age Group: Universal
DAY TICKET: £35.00 (£17.00)
Imagined as a dark fairy tale, this dramatic runway show by celebrated young Danish fashion brand, Borcher will showcase the most striking pieces from their recent collections.
Christina Borcher is a young designer based in Denmark.  Her creative process is inspired by and evokes the stories of her homeland.
Since graduating in 2006 she has worked as freelance designer in the theater and for private customers. With a large local following behind her, She started the avantgarde brand BORCHER "in a magical forest of dreams". Every Borcher creation is handmade by Christina Borcher and her team of freelance Danish tailors.
Christina Borcher Also works within the visual arts. Collaborating with her husband, they create a fairytale world where story telling is interwoven with film and photography. These complex narratives eventually manifest as handmade couture pieces, rooms and universes.
BORCHER is the "black feather in the sea of white".