Demarco Archive Exhibtion
Various Artists
March - April 2013
Tuesday- Saturday 1pm -5pm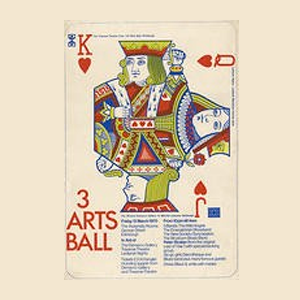 Category:
Ticket Price: Free, non ticketed
The Demarco Archive at Summerhall focused on the history of Graphic Art and Design from the 1950s until the late 80s; that is during last days before graphic art and design was made manifest through computerisation.
The Archive will also focus on Scotland's cultural dialogues between Poland and Romania under the title 'Art and War'. This part of the exhibition will relate to the ways in which the Demarco Archive will be exhibited in the National Galleries of Poland and Romania at the end of this year.
We are indebted to Southampton Solent University for their commitment to the exhibition of the Forth Studios art and design aspect of the archive through their preparedness to exhibit the archive in the University's Showcase Gallery from November 1912 through to February this year.
A team of three researchers have been gainfully employed since November last year in developing the Demarco Archive at Summerhall so that it can be experienced as an exhibition which is focused on the following themes defined in four sections as follows:
Section 1. An exhibition of George Wyllie's collaboration with the Demarco Gallery and Foundation. This is to co-incide with the annual exhibition presented by The Society of Scottish Artists at The Royal Scottish Academy. The Demarco Archive focuses on George Wyllie with particular reference to his collaboration with Joseph Beuys, Henning Christiansen, Ursula Reuter, Dawson and Liz Murray, Kenny Munro, and George and Cordelia Oliver, and his preparedness to explore 'The Road to Meikle Seggie' in relation to Hungary, Slovakia, Germany and Ireland.
Section 2. This year of 2013 marks the 50th anniversary of The Traverse Theatre, so this section shows how The Demarco Gallery was born out of The Traverse, and The Traverse was born out of Jim Haynes' Paperback Bookshop and John Calder's Ledlanet Nights Opera Festival.
Section 3. This explains the history of Scotland's cultural dialogue with Poland and Romania because of the fact that the Demarco Archive will be exhibited in the National Galleries of Poland and Romania at the end of this year.
Section 4. In preparation for the year 2014 and the 100th anniversary of the beginning of the First World War, this section is defined as 'Art and War'.