Edinburgh-Unite Against Fascism: Love MultiCulture Hate Racism Festival
24th November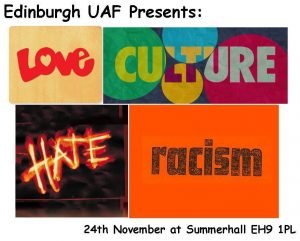 Venue: Upper Hope Park Church Gallery
Category:
Ticket Price: By donation at the door.
Edinburgh-Unite Against Fascism proudly presents the Love MultiCulture Hate Racism festival, celebrating our multi-cultural society with music, song and dance.
The festival line-up just gets better and better. In the last week we have confirmed; Bollywood dancers, award winning singer Penny Stone, an Indian Stick Dancer, acoustic sets from James Campbell & Scottish folk singer Eileen Penman.
The daytime cultural event will start at 3pm with jazz from Alistair McDonald backed by "Quatro Macjazz"! Between 3 and 7pm we will squeeze in a packed line up including an African choir, Indian and Kurdish dance workshops, drummers, Henna Hand painting and speeches by Show Racism the Red Card and Martin Smith from Unite Against Fascism.
Asian and Turkish food, tea and coffee and entry is by donation.