How a Man Crumbled
Clout Theatre
3 - 26 August, 2012 (not 17 & 18 August)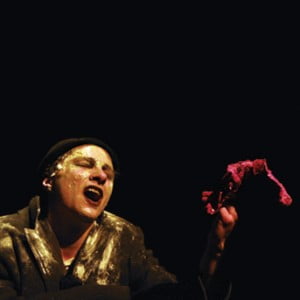 Venue: Demonstration Room
Category:
"A young company with bright ideas and the skills to match them"
Total Theatre
"These are class acts"
The Herald
"Dynamic new work.... leaves you hungry for more"
The Scotsman
Ticket Price: £10.00
/ £8.00
Age Group: 12+
Preview 3 August (£5.00)
'Art is a cupboard! We are not cakes!' Lecoq-trained Clout Theatre invite you to dive into the absurd world of the Russian poet, iconoclast and false moustache wearer Daniil Kharms. Three bouffonesque characters intent on telling 'The Old Woman' story let narrative escape them as comic vignettes, metaphysical ponderings and bouts of senseless violence provide constant distraction. Expressionist silent film meets grotesque slapstick in a world where clocks have no hands and a cucumber can kill a man.
Winner: PhysicalFest Audience Award 2012