Macbeth on Inchcolm Island
University of St Andrews, Hands in the Air & the Demarco European Art Foundation
10, 11, 16, 17, 19 August, 2012
18.30 at Summerhall or 19.00 at Hawes Pier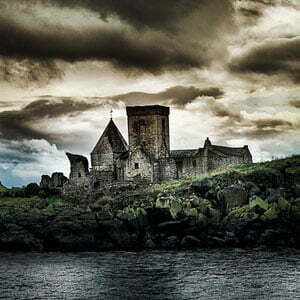 Category:
Tagged:
Richard Demarco
"Quite honestly, the best production of Macbeth I have ever seen"
The Stand
"'Outstanding Show' Award winners"
Fringe Review *****
"Shakespeare's world vividly recreated"
The Tribe *****
Ticket Price: £25.00 - including bus travel from Summerhall / £20 - meeting at Hawes Pier, South Queensferry
Age Group: Not suitable for the elderly or infirm
Walking is involved; please dress appropriately as some of the production will take place outside. No disabled access.
Meet us at Summerhall and journey with us by coach and boat to the stunning island of Inchcolm, in the Firth of Forth, for Shakespeare's Macbeth. Inspired by Richard Demarco's 1989 production and taking Inchcolm's twelfth century abbey for its stage, this promenade performance is Macbeth as you've never seen it before. As night falls, bloody deeds are done: join Macbeth on his destructive rise to power as the sky darkens on this breathtakingly beautiful island.
Outbound Travel
18.30 – Bus departs Summerhall
19.15 – Boat departs Hawes Pier, South Queensferry
Inbound Travel
Boat Docks at 22.45
Bus returns to Summerhall at 23.30