Macbeth
Song of the Goat Theatre
9 - 11 August, 2012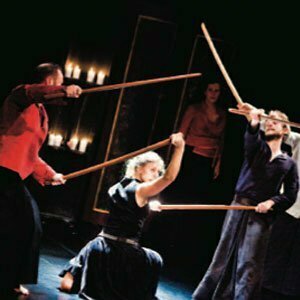 Venue: Main Hall
Category:
"Certainly a sense of being exceptional, possibly even un-categorisable, by British standard holds true to their fleet-footed, compressed version of Macbeth"
Dominic Cavendish, The Telegraph
Ticket Price: £11.00
/ £9.00
Age Group: 16+
Shakespeare's tragic tale of madness and murder is retold in a powerful production by award-winning Polish Song of the Goat Theatre company. Blending text, movement and polyphonic song, the international ensemble explores the musicality and muscularity of Shakespeare's poetry. The story is there, the characters are there, but as the action unfolds through a uniquely imagined physical and vocal language, the drama is born anew. Shifting seamlessly from dramatic scene to visceral movement and soaring song, it is a beautiful and chilling production from one of Poland's most innovative companies.
"Powered by the Adam Mickiewicz Institute, as part of Polska Arts programme."