NEU! REEKIE!
26 October 2012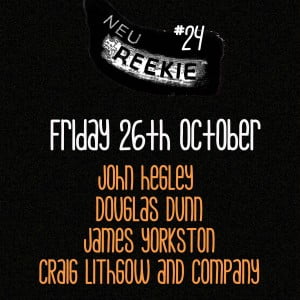 Venue: Main Hall
Category:
Ticket Price: £7
Neu! Reekie! is a mighty mixed medley of avant-garde animation, spoken word and music. After nearly two years tingling toes and ruffling feather Neu! Reekie! are now seen to be a key piece of Scotland's cultural puzzle.
Brought to you by Michael Pedersen and Kevin Williamson, October offers one of their brightest line-ups to date.
John Hegley – the People's Poet Laureate.
Douglas Dunn – one of the the pillars of Scottish Literature.
James Yorkston – hailed by John Peel as 'the greatest songwriter of his generation'.
Craig Lithgow – a precocious home talent.
Plus a picnic of Halloween themed animations and our Raffle of the Absurd.
More details here: http://www.facebook.com/events/320418441390519