Pages from the Book of…
50Letters Theatre Company
10 - 24 August, 2012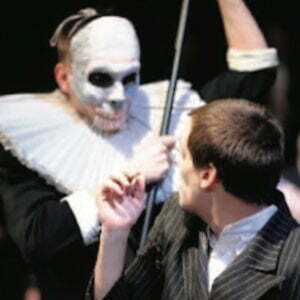 Venue: Main Hall
Category:
"Together they paint a picture of existence; including some birds, a door and a crazy doctor! 'An outstanding piece of theatre."
Richard Demarco
Ticket Price: £10.00
/ £8.00
Age Group: PG
Witness a fragile, dramatic but humorous relationship between a father and a son. A variety of absurd characters take you on a journey through life and death in a reserved time. An ensemble of vocal expression, music and physical theatre brings Bruno Schulz's art and books to life. Polish directors Andrzej and Teresa Welminski, former performers of Tadeusz Kantor's Cricot 2, devised the show with international 50 Letters Theatre Company.