Song of The Goat Theatre : Workshop by Grzegorz Bral
Songs of The Goat Theatre
15 - 17 August, 2012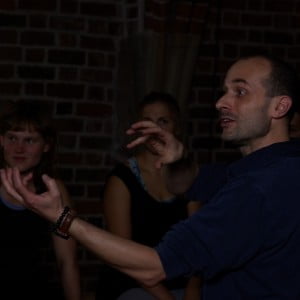 Venue: Library Upper Gallery
Category:
Tagged:
Workshop
Ticket Price: £60.00 for the 3 days
This workshop is offered to professional actors and other experienced applicants. Theatre workshops and masterclasses require minimum participants to operate. 24 hours notice will be given of a cancellation of a class and full refunds will be available.
Led by the artistic director of Teatr Piesn Kozla, Grzegorz Bral, this workshop will give you practical experience of co-ordination – the fundamental training method of Teatr Piesn Kozla. Co-ordination consists of the organic linking together and integration of voice, text, energy, imagination and movement within the individual as well as with a partner and the whole group. We explore the flow between dance and word, rhythm and sound, gesture and character. Our work focuses on imagination, energy, concentration, character and courage, while freeing the natural creativity of the performer.
To book you may either call the box office or email anu@summerhall.co.uk