The Art Particle
An illustrated talk by Dave Rushton
24 August, 2012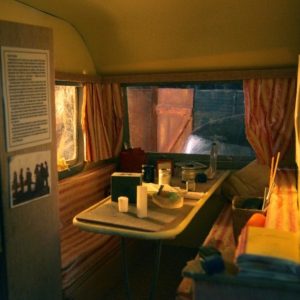 Venue: Demonstration Room
Category:
Tagged:
Other Silences
Ticket Price: Free, ticketed
While quantum mechanics questions the universal scope of Newton's 17th century physics the interaction of the material paradigm in art remains, like Newton's gravity, a good enough explanation of how visual art appears to be held together.
This talk, illustrated with slides and models, will explore several counterfactual moments in art-making citing work by Barnett Newman, Jasper Johns, Robert Morris and Joseph Kosuth in which work(ing) in art seems to resist if not contest representation by appearance.
Did the analytical art that emerged in the 1960s contribute to Ian Burn's 'functional change' (above) or was the analytical outcome subsumed in Conceptual art's representation as modified appearance?
David Rushton's 1/24th scale model of the caravan at Lord Lytton Avenue (1974-76). One of twenty eight models in 'The Art Particle' series begun in 2004. Within this model models of 'Air Conditioning Show' and 'Soft-Tape' are shown under construction, on the door is a photograph taken at the Threshold Agreement exhibition and on the cupboard copies of the study, 'Art & Education'.