Anti-Zine Circus Magazine Launch Party
Antisocial Writers Club
Sat 16 Nov, 2013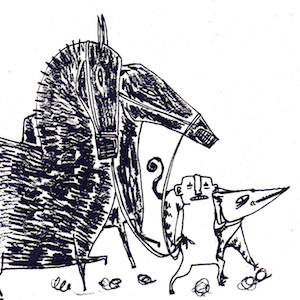 Venue: The Dissection Room
Category:
"Monster was the best zine-launch party of 2012"
anti-zine #1 contributor
"He was only five years old, and to exhibit a dwarf of that age might provoke the question, How do you know that he is a dwarf?"
PT Barnum
"You know I gave it all up for the stage, They fill my cup up in the cage."
Tom Waits
"Everyone around me slowly raised their heads as, together with me, they watched the silvery tightrope walker ascend, captured in a circle of light"
Ivan Klima, The Tightrope Walkers
"Have you seen my bear?"
Carnivale (HBO)
Ticket Price: £6.00
Antisocial Writers Club presents the second annual Anti-Zine. This year the theme is… Circus!
The Dissection Room will be turned into a fairground cabaret of stalls where you can have your fortune told and join in with activities of an arcane and circussy nature.
You will be entertained by the finest local musicians and theatrical acts. We'll have a reading by Kirsty Logan and others from the magazine. With performances by Paul Vickers (Twonkey's Blue Cadabra), some Edinburgh musicians and Biff from A New International (formerly The Starlets).
Be charmed by snakes. Eat fortune cookies. There will be readings from the magazine of the strangest and most whimsical new writing around.
Come and join the extravaganza! Come and join the Circus!