Braw Gigs – Bill Orcutt + Ali Robertson + With Lumps
Bill Orcutt + Guests
2 November 2013
20.00 - 22.30
(2 hours 30 mins)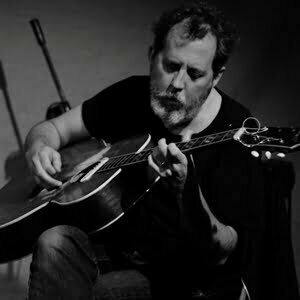 Venue: Anatomy Lecture Theatre
Category:
"Quite awe-inspiring, and unlike anything else I can think of."
Bryon Coley, Wire Magazine
"Anyone can admire the raw soul of his playing and the way he shoots out ideas in real-time, reacting so quickly it's as if he's creating a new language as he speaks it... it's impossible to listen to A New Way to Pay Old Debts without being affected by it."
Marc Masters, Pitchfork
Ticket Price: £7 in advance, £8 on the night!
Age Group: 18+
Born in Miami in the year of Cuban missile crisis and educated in Florida's finest institutions, Bill Orcutt is usually recognized as the co-founder of the band Harry Pussy. Formed in 1991 and featuring Orcutt on 4-string guitar—a practice carried over, developed, and refined from circumstantial adolescent experiments in working around absent strings—and Adris Hoyos on drums and vocals, with a second auxiliary guitarist added in in later years, the group's sound centered on its completely unhinged ferociousness. Within those furious eruptions, Harry Pussy drafted the blueprint—combining hardcore punk's brutish speed blended with the art school caterwaul of No Wave—for the next two decades of noise-rock. 
Twenty years later, Bill Orcutt still only plays four strings, but now they are attached to a vintage acoustic Kay that has withstood enough damage and repair that it requires custom tuning to stay in one piece. Sometimes clanging and ominous, other times mournful and slight, strangely alienating, but simultaneously vulnerable and cathartic, his music is compared with equal frequency to avant-garde composers and rural bluesman. With each recording and individual performance, Bill Orcutt continues to discover and invent a wholly unique sonic vernacular built around raw and tortured tone, ragged minimalism, and seemingly inexhaustible improvisational stamina.
One half of the Edinburgh's absurdist sputter and clink duo Usurper and head honcho of Giant Tank – Ali will performing solo on the night. Having dabbled and drooled his way through improvised collaborations with the likes of Blood Stereo, Phil Minton and The Bohman Brothers – his combination of avant sound poetry, scuttled performance art and garbled Scot's vernacular will provide a fine lubricant before Bill's stringed assault.
Uncategorisable guitar/percussion duo of former Pee-Ess-Eye drummer Fritz Welch and guitarist Neil Davidson. Fetid sonic sci-fi with an urbane twist; With Lumps ask that we imagine the gralloching of a thousand robots, springs and home grown skin all a quiver. Neil is from The Borders and Fritz is from Texas. They are based in Glasgow.