Braw Gigs & Summerhall Present: Cian Nugent & The Cosmos
Braw Gigs
23 May, 2013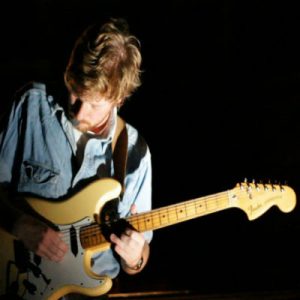 Venue: Main Hall
Category:
Ticket Price: £7.00
/ £6.00 in advance
Cian Nugent is a guitar player from Dublin, Ireland whose music combines personal passions, such as suburban/coastal blues, traditional musics, 1960s & '70s singer-songwriters, psychedelic rock, jazz ambitions, 20th century composition and the Takoma school of guitar music into a deeply personal style. His music boasts an orchestrated and fully instrumented sound that is playful and eerie at the same time.
"Nugent's already mastered dynamics tone and articulation. He introduces each new melody or change of emotional tenor at precisely the right moment to keep you on the edge with him, and his tunes are sturdy and lovely things … Mighty good." — Bill Meyer, The Wire
Cian's debut studio album Doubles came out in June 2011 on US label VHF after an EP in 2007 and a live album, Childhood Christian Lies and Slaughter in 2008. And 7″ Grass Above My Head b/w My War Blues followed in May 2012.
Over the past year a new band Cian Nugent and The Cosmos has developed with drummer David Lacey, viola player Ailbhe Nic Oireachtaigh (who both played on Doubles) and bassist Conor Lumsden. New material shows the added influence of the eternal flow of transnational desert blues, psychedelic thoughts on rock and the campaign to legalise jamming. – Café Oto
THE FAMILY ELAN
The Family Elan is currently performing as a trio, featuring Chris Hladowski on electrified bouzouki, elektrosaz & vocals, Harry Wheeler on electric bass and Mark Hearne on percussion & vocals.
Collaborators past and present include the singer Stephanie Hladowski, percussionist Patrick Farmer, singer and multi-instrumentalist Hanna Tuulikki, and double bass player Seth Bennett.
The scope of the Family Elan's output is broad, ranging from self penned reflective meditations which rotate on a devotional harmonic axis, to irreverent interpretations of Bollywood hits, to Turkic folk forms filtered through a psychedelic rock praxis.
Perhaps the unifying strand in all this is a deep interest in traditional music forms and their reinvention through communal group playing, in the current instance very much rooted in the Bradford DIY "no rave" aesthetic. – Café Oto
PYRAMIDION
Glasgow's answer to the likes of Ash Ra Temple and Amon Duul II, made up of various heavy hitters in the Scottish experimental scene with members of Boom Edan, Moon Unit, Scrim, Cheer, Lanterns. Expect tantric vibrations, whale calls and a thunderous rhythm section through some full on psych explorations. With a new split LP with Newcastle's Bong having been just released on At War With False Noise, this is a rare chance to catch this supergroup in full effect.