Edinburgh Short Film Festival
7 June, 2013 & 15 June, 2013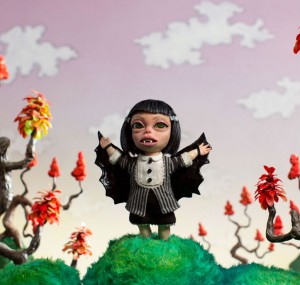 Venue: Summerhall
Category:
Who are you calling short stuff? Edinburgh's half pint-sized film festival packs a punch.

Audiences can expect the unexpected, with Belfast samurai, a suicidal ostrich, discontented urinals and a triumphant nonagenarian gymnast featuring in the selection of shorts.
The city's self-proclaimed most genial film festival may be dinky but packs a punch with award-winning, original and cult cinema. It's programmed to allow audiences the full variety of human experience with their half pint – from silly sock puppet horror and dark farce to thought-provoking documentary and drama.
Highlights this year include a selection of peerie shorts fae Shetland screening at Summerhall, complete with fiddling and bannocks and a special screening of The Spot by award-winning director Alexandre Philippe (The People vs. George Lucas) to commemorate the 50th anniversary of the Kennedy assassination.
Tickets are available online from June or on the door at £3 – £4 for each day of screening. Click here!
For further press information, press tickets and images, contact Leila Frank, Glory Days PR, leila@glorydayspr.co.uk, 07552 717 827.