Hickory and Dickory Dock
Wee Stories
5 May, 2013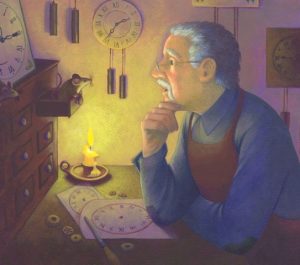 Venue: Demonstration Room
Category:
Ticket Price: £7.00 adults / £5.00 child
Age Group: 4+ and adults
£20.00 family ticket (2 adults, 2 children)
Once upon a time…that's the way most good stories begin and this story starts that way too, which is just as well as it is a story all about time.
The latest new theatre piece from Wee Stories tells the story of what happens in a remote village when all the clocks go haywire. With original music and puppetry, Hickory and Dickory Dock is a tale of ingenuity, invention and surprises.
"When it comes to children's theatre in Scotland, Wee Stories are just about the best there is… pure, light-touch fairytale magic" The Scotsman
Illustration by Teresa Flavin