Mines Trio & Guests
Braw Gigs & Summerhall
Sat 25 Jan 2014
20:00- 22:30
(2 hour 30 mins)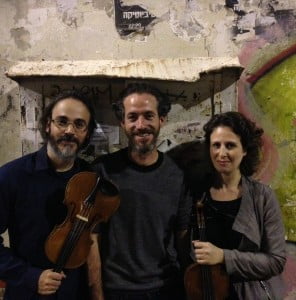 Venue: Demonstration Room
Category:
Ticket Price: £6.00
Age Group: U
Braw Gigs and Summerhall Present: Mines Trio and Guests
3 free improvised spirits
Strings
Skins
Bows
the lowest tones
the highest rolls
no chance of losing what we never owned
Conductor, Ilan Volkov made his debut with the Iceland Symphony Orchestra in 2003 and took on the post of Music Director and Chief Conductor in September 2011. He began his career as Assistant Conductor of the Boston Symphony Orchestra under Seiji Ozawa, and was Chief Conductor of the BBC Scottish Symphony Orchestra from 2003-2009. Since then he has been the orchestra's principal guest conductor. He is the current curator of the internationally renowned Tectonics Festival.
Volkov will be doing both an acoustic solo set and performing with his trio "Mines" from Tel Aviv – which features Ilan and Yael Barolsky on violins and Ram Gabay on drums. Mines will also be joined by Japanese vocalist and artist Shiori Usui – with a supporting performance from Edinburgh's Hockyfrilla in between.
www.vimeo.com/mines