In Search of Blind Joe Death – The Saga of John Fahey
Presented by Braw Gigs and Summerhall
20 February Please note rescheduled date, all tickets valid and refunds available from the Box Office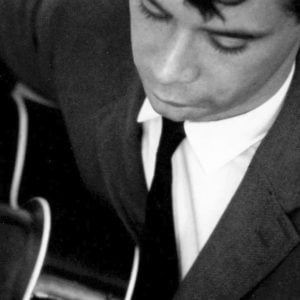 Venue: Red Lecture Theatre
Category:
"The folk guitar equivalent of William Burroughs.....he had a real edge to him"
Pete Townsend
"Rated 35th in our 100 Greatest Guitarists of all time."
Rolling Stone Magazine 2003
Ticket Price: £3.00
Due to unforeseen issues, the film screening and performance scheduled for the 15th February is unfortunately cancelled. The screening has been rescheduled for Wednesday 20th February.  Booked tickets are still valid for this new date, and refunds are also available from the Box Office. The Wee Rogue will be performing on the 20th. Apologies for the inconvenience, the date change is out with the organisers control.
A feature length documentary about the tremendously influential composer, guitarist, author and provocateur John Fahey (1939-2001).  Directed by James Cullingham,  the film combines live action and archival footage with animation in a kinetic, musically charged tribute to this great artist.
Born in 1939, Fahey bought his first guitar when he was 13 years old and taught himself to play by listening to records and attending concerts of blues  and country artists such as Bill Munroe,  Blind Willie Johnson and Frank (Guitar) Hovington. His career spanned over 50 years and inspired the likes of Beck, Thurston Moore of Sonic Youth, Pete Townsend and Chris Funk from The Decemberists. The film features interviews with both Townsend and Funk.
John Fahey is known as "the father of American Primitive Guitar." Some think of him as a foundational figure in American folk music. Fahey himself, however, insisted, "I am not a volk, how can I be a volk? I'm from the suburbs." There's no question that his playing and compositions are superb. Fahey, as both musician and musicologist, made a fundamental contribution to the global understanding of classical American music's such as Delta Blues, Appalachian Bluegrass and New Orleans Jazz. The film charts the career and influence of John Fahey.
There will be a live acoustic performance from The Wee Rogue beforehand. The film will be screened on Blu-Ray in 8.1 surround sound.