Introducing – Ali Affleck and Vieux Carré
Stompin at Summerhall
Fri 20 Dec 2013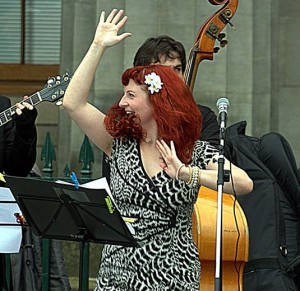 Venue: Main Hall
Category:
Ticket Price: £8.00
/ £6.00
Age Group: 18+
Few jazz bands can boast an award winning vocalist, but there again, few bands have such an enigmatic presence as Ali Affleck, the acclaimed Vocalist of the Year in the prestigious 2013 Scottish Jazz Awards. Ali and Vieux Carré is a sextet, staying true to the whimsical, evocative and slightly cheeky attitude of the late 1920s 'Jazz Age', when Dixieland and 'Hot' Jazz were in very much vogue.
Pulsatingly rhythmic and full of drive, energy and passion, Ali Affleck and Vieux Carré offer up a hearty and delicious floor-filling performance which invariably attract large audiences and Swing Dancers wherever they perform.
The Vieux Carré repertoire is energetic and lively – think 'Tin Pan Alley' with a hint of good old Vaudeville and you'll get the picture!.
Ali Affleck was a clear winner as best jazz vocalist in the Scottish Jazz Awards for one prime reason – she positively brims with vocal talent! She has a vocal styling of a young Billie Holliday, June Christy and others from these halcyon days of the 20s, 30s and 40s jazz when style and elegance mattered as much as the music..
Add Vieux Carre's heady mix of exceptional musical talent quality – Tom Davis – Guitar, Dick Lee – Reeds, Owen Macdonald – Bass, Campbell Normand – Piano and Kevin Dorrian – Drums, and the package is complete!
Vieux Carré performs regularly sell-out performances at Jazz Clubs and Swing Dance events. The six-some performed to a sell-out crowd at the Edinburgh International Jazz & Blues Festival and have a performance scheduled at the Dundee Jazz Festival in late November.