'Live Art' at Summerhall this weekend!
19 January 2013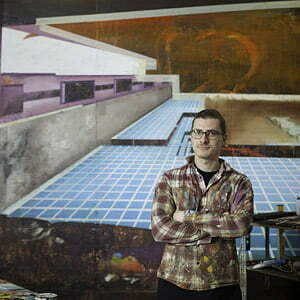 Category:
Ticket Price: FREE
Age Group: All ages
Edinburgh-based artist Stephen Thorpe provides rare insight into his practice this Saturday, 19th January, at Summerhall. From 11am-6pm, Thorpe will be completing his large painting 'Untitled (Gala)' from his current exhibition on show at Summerhall in front of a live audience. Members of the public will be able to watch the artist at work and ask questions about the show and the painting process.
The opportunity to see 'live art' is valuable to avid art fans, current and prospective art students and those new to contemporary art. The event allows insights into the painterly process and the opportunity to see a professional artist at work. Thorpe will be available for questions about his work during the time, and the curator, Paul Robertson, will also be on hand to answer questions about the show and other exhibitions currently on at Summerhall.
'Once It's In You It Never Goes Away,' a new exhibition by Thorpe, has been on display at Summerhall from 15th December and will run until 22nd February. The exhibition includes seven large-scale oil paintings depicting interiors in bright colours and off-perspectives, as well as two works in neon, a departure from Thorpe's usual obsession with painting.