Luke Fowler & Richard Youngs + Guests
Braw Gigs and Summerhall
Sat 05 Oct 2013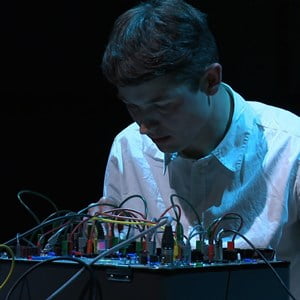 Venue: Red Lecture Theatre
Category:
"The starting points can be different catalysts. Either events in my life or something I've read, or a piece of music I'm listening to … but generally they stem from a sort of concern of trying to understand a question"
Luke Fowler quoted in The Tate
"THE iconic figure of the modern UK underground … Richard Youngs evolves in the shadows where most won't look, but those who do will forever be dazzled and amazed"
The Quietus
Ticket Price: £6 in advance, £7 on the door
Age Group: 18+
A collaborative musical performance from Turner nominated artist and filmmaker Luke Fowler and musical provocateur of Britain's DIY underground, Richard Youngs. Together they present a melding of minimalist synth and repetitive pulsations channelled alongside Richard's guitar and distinctive vocal delivery.
Raised in Glasgow in the eighties, Luke Fowler is recognised as an artist, filmmaker and musician who creates new grammar from old forms. A 2012 Turner Prize nominee who won the Jarman Award in 2008, Fowler produces, via sound, text and image, a layered portrait of the real life characters he focuses on, most of whom stem from a counter-cultural background. His structuralist film essays contain sonic and visual fragments that intriguingly link diverse references, theories, views and notions, proposing more and more portals of viewing and understanding, rather than neat/limited summarisations.
With hundreds of solo and collaborative releases on countless labels (including his own "No Fans" label) Richard Youngs has been heaped with accolades since the 1980's. Whether through his collaborations with the likes of Simon Wickham-Smith, Jandek, Neil Campbell or Makoto Kawabata, or in his solo work encompassing the starkest minimalism, lush acapella and acoustic balladry, Richard adds a touch of humanity to any project he's involved with – a rare thing in the sterile surroundings of the experimental scene.
Support from
Ash Reid
An Edinburgh based musician and visual artist whose recent performances and collaborations have combined an array of digital media and cultural pop references presented through an entirely unique multimedia performance – with themes surrounding youtube culture, self-help diatribes and photoshop manipulations.
Red Death
Drones, loops and harmony from Braw Gigs' master of ceremonies, Nick Herd. Dilapidated Yamaha pre-sets pickled in reverb, which tip toe between grandiose melodic gesticulations and all out synth shrill. This live set will be accompanied by some retrogressively striking visuals from a bygone computer age.