Neu! Reekie! 33
31 May, 2013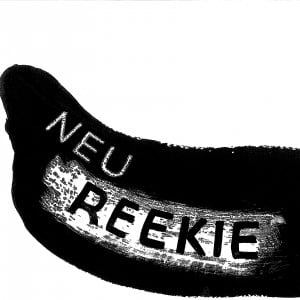 Category:
Ticket Price: £7.00
Neu! Reekie! is brought to you by
Michael Pedersen and Kevin Williamson
Starring:
ADMIRAL FALLOW – STEVIE JACKSON – MCGUIRE – KRYSTELLE BAMFORD
Readings from:
KRYSTELLE BAMFORD
American poet Krystelle Bamford has had poems published in The American Poetry Review with work forthcoming in The Kenyon Review. She was a 2010 recipient of the Scottish Book Trust's New Writers Award and was shortlisted for the 2011 Bridport Prize. Her chapbook 'Mosquitoes' was published by Forest Publications in 2010. She was one of the poetry stars of the recent Reel Festival where she traveled to Iraq with four other Scots Poets to translate and then perform works.

MCGUIRE:
a thin 30 year old Glaswegian man, touch giddy in the head, sometimes poet of mangled form and dirty prose, sporadic drummer, drunk grammarian, waffler, painter using crayons, lover, hater, learner, teacher, pedestrian, provocateur, wanderer, confronter of shadows, irritating whine. He mines the darker regions of Scottish Culture and Psychology. He has read widely in Scotland and England. Produced a collection of poetry and short stories – Riddle With Errors – and is currently writing another for release with Red Squirrel Press in late 2013.
Music from:
STEVIE JACKSON (Belle and Sebastian)
arguably Scotland's finest guitarist and one of the songwriters / founding members of the world dominating band Belle and Sebastian; as well as sometime contributor to music by The Vaselines, Russian Red, Roy Moller, The Bill Wells Trio, The Store Keys and more. After many years of working with other people, his first solo album, (I Can't Get No) Stevie Jackson surfaced last year.
ADMIRAL FALLOW
one of Scotland's biggest and brightest bands. Pop/Folk. New album "Tree Bursts In Snow" out now on Nettwerk. Q Magazine June 2012 4**** "Epic indie-pop", "big yearning choruses and swaying anthems'. More here: http://admiralfallow.com/
"Anthemic yet understated. Big and bold, but avoiding theatrical cheese. Every note serves a purpose and has its place, nothing is wasted and nothing is missed." (Music-News.com)
"A veritable masterclass in dark-hued yet uplifting, catchily literate roots-pop" (The Herald)
"So good, so dark, so beautiful" (Daniel P. Carter, BBC Radio 1)
The night also features a series of curated animations
Neu! Reekie! is supported by DreamTower Productions.