Neu! Reekie! 39
Neu! Reekie!
27, September 2013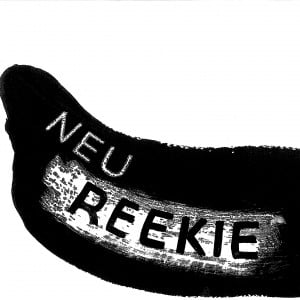 Venue: Main Hall
Category:
Ticket Price: £7.00
BILLY LETFORD – THE WELLGREEN – LINDEN – PROFESSOR ELEKTRIC AL  – PUMAJAW
Brought to you my Michael Pedersen and Kevin Williamson Neu! Reekie! is a delicious feast of spoken word, music, animation and film fusion.
The night also features a curated series of animations.
BILLY LETFORD
William Letford has an M.Litt in Creative Writing from the University of Glasgow. He was the recipient of a New Writer's Award from the Scottish Book Trust and an Edwin Morgan Travel Bursary which allowed him to spend three months in the mountains of northern Italy in 2008, helping to restore a medieval village. His first collection, Bevel, was published by Carcanet Press in 2012. Billy Letford has received rave reviews for his work which combines experimental structure with cadences and accents of ordinary speech to produce "moments of transcendental insight" (The Guardian).
http://www.scottishpoetrylibrary.org.uk/poetry/poets/william-letford
THE WELLGREEN
A blend of sixties songwriting, psychedelia, early powerpop The Wellgreen swear by vintage style recording techniques to make their records sound classic and timeless. The Wellgreen strip back the live performances to a completely organic two-piece, powered by their signature two part harmony. Accompanied by guitars, percussion and the retro casio tones, they offer a unique alternative to the future of music.
http://thewellgreen.bandcamp.com/
PUMAJAW
PUMAJAW are producer multi-instrumentalist John Wills (ex-Loop) and songwriter/chanteuse Pinkie Maclure. A charismatic live act since 2000, they have toured the UK, Europe, Russia and the US, earning loyal fans who are seduced by their combination of great songwriting with inventive, atmospheric arrangements. They've have just completed a critically-acclaimed 3-week run at Edinburgh Fringe, performing audiovisual show 'Song Noir', reinventing songs from the screen (eg 'Twin Peaks', 'Kiss Me Deadly') using samples, synths, 'found sounds', concertina, electric guitar and autoharp.http://www.pumajaw.co.uk/
LINDEN
'My name is Joe McAlinden. I used to have a band called Superstar who were originally signed to Creation Records in 1992 by Alan McGee and, up until 2000, released around seven albums. I have played/written/collaborated with many people including Teenage Fanclub, Big Star/Alex Chilton, The Boy Hairdressers, NOM, BMX Bandits, Matthew Sweet, Jim Lambie, Alan Warner, BBC Scottish Symphony Orchestra and lots more. I continue to write and record music from my wee studio up here in Argyll and have just released my new solo album, Bleached Highlights, on Edwyn Collins & James Endeacott's AED Records and I'm about to do another. In a nutshell, that's about it.'
Album of the Week – Scotland On Sunday
"A beautiful record" 4/5 – Q Magazine
Album of the Week – Alexis Petridis The Guardian
"Beautifully assured" – The Scotsman
"This album is stunning" – Daily Record
Album of the Week – Vic Galloway BBC Radio Scotland
Album of the Week – Tom Morton BBC Radio Scotland
"Perfect pop moment" 4/5 – Sunday Express
"Glorious… A prime contender for Scottish Album of The Year