One last chance to witness 'Diving' by Gavin Evans
Diving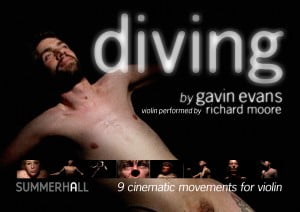 Category:
Following Summerhall's successful world premiere, there's one last chance to witness 'Diving' by Gavin Evans
Diving features 9 cinematic movements for violin by uncompromising film-maker and photographer Gavin Evans, performed live by virtuoso violinist Richard Moore.
Lone souls bearing unimagined histories emerge from the abyss. Engrained experiences of pain, fear, anger, isolation, trauma, desire and addiction are exposed without compromise. The unquestioned trust between subject and artist unlocks moments of profound intimacy as the naked body, witness to events, reveals the marks of emotional and physical scarring. Emotions are released with breathtaking force and clarity. Evans' subjects offer themselves unconditionally, allowing the audience to reflect on emotions they may harbour or suppress. Provocative and harrowingly beautiful, Diving demands the audience to look deep within.
Diving is not a silent movie nor a film for musical accompaniment- film and violin are intrinsic and inextricable. The violin is the voice- uniting audience and subject. From artist-to-audience the sequence is uninterrupted, the signal is pure; one artist, one subject, one light, one camera, one musician.