Only Wolves and Lions
Unfinished Business
12 September 2013 , 14 - 15 September 2013
12th & 14th at 18.30 and 15th at 14.30
(3 hours)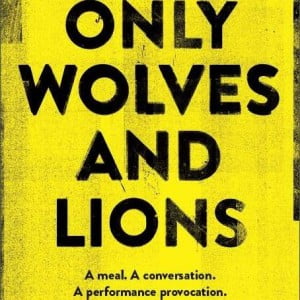 Venue: Main Hall
Category:
"One of the most special evenings of my life"
Nick Ahad, BBC Radio Leeds
"A Feast for the Soul"
One Stop Arts
"Only Wolves and Lions is a beautifully naturalistic way for an audience to come together on the same plain as the performers"
Spoonfed
Ticket Price: £15
/ £10
Age Group: 14+
A meal | A conversation | A performance provocation
Only Wolves And Lions takes a fresh look at human behaviour in the pursuit of happiness. After food clothes and shelter, what do we need?
Exploring ideas surrounding community, isolation and the meaning of the word crisis, Leo Kay and Unai Lopez de Armentia invite you to cook, eat and speak together.
A night of collective action, anecdotal storytelling, and the odd philosophical treatise; come share your food and your thoughts.
Unfinished Business will provide a selection of 'carbs and condiments', however you must bring one raw ingredient to contribute to the meal for 16-20 people!