Puppets, Performers & Direction
Manipulate - Mervyn Millar and Liz Walker
5 February 2014 - 7 February 2014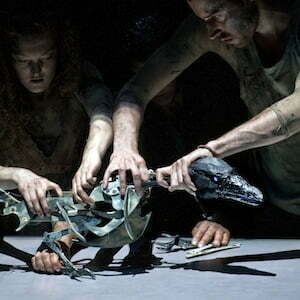 Venue: Basement Gallery I
Category:
Tagged:
Manipulate
Ticket Price: £120 (£200 for both Manipulate masterclasses)
Participants of this workshop will explore different creative devising and directing techniques. Working from a situation, an emotion, a character or prop or a combination of some or all of these things, short, improvised puppet and object theatre pieces will be created. With group discussion and debate inspiring reflection and experimentation these scenes will then be re-worked and developed further.
What are we aiming for when we direct puppets and their actions? During the process a piece may very well move away from its original intentions. Fundamental questions will be asked, and new discoveries will be made, always framed within the most elementary creative query of all: why do we make the artistic choices which we make? The textual influences underpinning this workshop will be Incidences by Daniil Kharms and Act Without Words by Samuel Becket.
Liz Walker has worked as an inspirational deviser, performer and director of her own innovative work all over the world for the past 25 years, most notably with her former company Faulty Optic and presently with her new company Invisible Thread, which appeared at manipulate in 2012 with her production, Plucked.
Puppeteer and director Mervyn Millar has worked extensively in theatre and opera with many companies including the RSC, theatre-rites, Opera National du Rhin and Residenz Theater Munich. Mervyn has also enjoyed a long association with Handspring Puppet Company, including directing the puppetry in the world-wide successful National Theatre production of War Horse, working in London, New York, Toronto and Berlin.