Richard Dawson & Guests
Braw Gigs and Summerhall
20 September 2013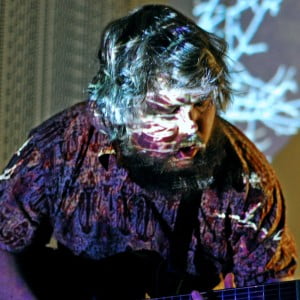 Venue: Anatomy Lecture Theatre
Category:
"The sense of place in Richard Dawson's work is almost overwhelming. It's not just in the clear love for stories, song, and community. It's not the folk of enclosure or conservation, but of lived, shared, enjoyed experience. It can be messy, funny, and rambling, and it is all the better for it. Live, it can border on a gloriously comedic kind of communitas; on record, it takes on the kind of intensity and situated precision that eludes even the best tour guides or maps. But this shouldn't be folk's purpose — bird's eye views and static places — and The Glass Trunk knows this."
Tiny Mix Tapes
Ticket Price: £7
/ £6
Age Group: 18+
Newcastle's Richard Dawson is arguably one of the most fascinating and enigmatic singer songwriters performing in the UK today, with an idiosyncratic approach to his guitar playing combined with bellowing to cherub like vocals – that can all change in an instance. A legend in his hometown, he's one of a few current English songwriters that has successfully straddled the lines between the traditional, the avant garde and the most awarding pop music.
His literally peerless new album The Glass Trunk has bent listeners' minds far and wide too – as Alex Neilson described it in The Wire: "This remarkable album packs all these emotions and more into its 19 highly idiosyncratic and imaginative pieces…it's mingling of the incidental with the testimonial hopes and anxieties of all-but-forgotten people is profoundly affecting."
And if you've seen him live, you know there's no live performer quite like Richard, from the serial between-song belly laughs he induces to his unique angular guitar style and raw, soaring voice.
Support from Howie Reeve
Having played bass in, among others, Tattie Toes and Maxton Grainger, Howie Reeve has recently embarked on a solo acoustic bass tip, mostly instrumental, with occasional vocals. His compositions are tuneful, personal and emotive. "Kinda like if Mike Watt had recorded for Takoma".