As it presents itself – Somewhere vague
Ryan Gander
8th March - 18th May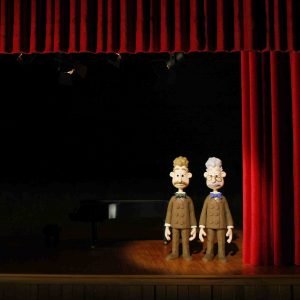 Venue: Lower Hope Park Church Gallery
Category:
Ticket Price: Free, non ticketed
Gander's claymation video work brings together characters based on Spike Milligan, curator Matthew Higgs, Mrs Frances Gander (the artist's mother) and the Lumiere Brothers, Auguste and Louis and a generic animator's armature that functions as the skeleton for the other characters.  All are auditioning for a piano piece: appearing nervous they are unsure of why they find themselves on stage. The voice over is provided by Richard Briers (The Good Life) and the script written by Gander –  one of Britain's most innovative contemporary artists – from the imagined perspective of each of the characters. This hugely playful film lasts 25 minutes and will be looped continuously in the space.
We would like to thank Ryan Gander for his generous willingness to loan this video work to Summerhall.