Sitar recital with Ikhlaq Hussain
Ikhlaq Hussain
Sat 30 Nov 2013
19.00 - 21.30
(2 hours 30 mins)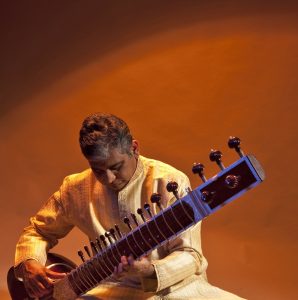 Venue: Main Hall
Category:
Ticket Price: £14.00
/ £12.00
Age Group: 14+
Sitar maestro Ikhlaq Hussain is an accomplished sitarist with musical roots in the renowned Delhi Gharana (school) of Hindustani classical music. Ikhlaq was trained by his father, Ustad Imdad Hussain, in Karachi, and later by the legendary Pandit Ravi Shankar in India. Ikhlaq's deeply spiritual music is played in the "Gayaki" style, emulating the human voice and conveying the human soul's yearning for the divine.
To learn more about Ikhlaq Hussain, please visit http://ragasitar.com
Ikhlaq Hussain will be accompanied by Hanif Khan on tabla.
To learn more about Hanif Khan, please visit http://hanifkhan.net/
Any performance of North Indian classical music depends considerably on the mood and inspiration of the artists and their rapport with the audience. Therefore, the selection of ragas and talas will be chosen according to the mood of the evening and announced just prior to the performance by the artist on 30th of November 2013.