Time and Tide
Cecilia Vissers
Fri 11 Oct 2013 - Fri 22 Nov 2013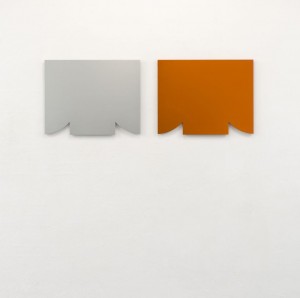 Venue: Library Upper Gallery
Category:
Tagged:
Art Exhibition
|
Sculptures
Ticket Price: FREE
**Please note this exhibition will be closing at 17.30 from Thurs 17 Oct to Sat 26 Oct, it will be closed on Wednesday 6th November and on Wednesday 13th November.**
Vissers shaped but hard edge minimalist sculptures are inspired by her love of landscape.
An established artist from The Netherlands, Vissers keeps her pallet to a very small number of colours; grey, black and orange being her mainstays. The artists inspires a feeling of deep spacial awareness, an understanding of the loneliness of being outdoors, lost in the forces of huge mountains and deep lakes through the deeply considered shaping of the object and colours.