Paul Bright's Confessions of a Justified Sinner reconstructed by Untitled Projects
National Theatre of Scotland, Summerhall and Tramway co-production
Thurs 17 Oct 2013 - Sat 26 Oct 2013 (not Mon 21 October).
19.30 - 21.30, Matinee 19th Oct 14.30 - 16.30
(2 hours)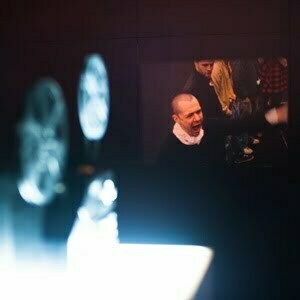 Venue: Main Hall
Category:
Tagged:
Fall Season
"Part documentary (both of Bright and his Confessions), part autobiography (of Anton) and part acting masterclass … often witty, occasionally hilarious, and always excellently acted. "
The Telegraph ★★★★
"[Stewart] Laing and [Pamela] Carter's work achieves a thrilling poetic intensity; and touches on something wild and self-destructive in Scotland, and in the human spirit. "
The Scotsman ★★★★
"Watching the reconstruction, which reinvigorates the book's ideas of duality, Calvinist guilt and the unreliable nature of "truth", you can't help but feel that Hogg would have been proud. "
The Times ★★★★
"A production that is genuinely unique and utterly unmissable. "
The Public Reviews ★★★★★
Ticket Price: £12
/ £8
Age Group: 12+
The year – 1987
The man – Paul Bright a radical, young Scottish director
The vision – To stage James Hogg's landmark novel Confessions of Justified Sinner in unusual locations across Scotland in an ambitious attempt to create a new form of theatre
The verdict – Untitled Projects are here to find out
Memories of those late 1980's stagings seem sparse, but someone who remembers Paul Bright and his recklessly ambitious plans for Confessions is the actor George Anton. A close friend of Bright's he was, for a time, at the centre of these wild performances, and this intense friendship has marked his life.
It was a surprise when in 2010, having not thought of him for years, George received a letter telling him that Paul Bright – his remarkable, passionate, impossible friend – was dead.
Realising that Paul Bright's work is all but forgotten in Scotland today, George has been working with Untitled Projects (who previously created The Salon Project and Slope), director Stewart Laing and playwright Pamela Carter, to create a solo show and an exhibition of archive materials connected with Paul Bright's fragmented works.
This show and archive installation is a rich collection of memories, anecdotes, objects, photographs, filmed footage and interviews with theatre luminaries such as Tim Crouch, Giles Havergal, Katie Mitchell, Alison Peebles and Annie Griffin sharing their memories of that time with us.
Paul Bright's Confessions of a Justified Sinner is a uniquely theatrical experience that asks what remains of a performance when the last words have been said, the audience leaves and the actors have gone home.
Join us as we celebrate and share the forgotten life of Paul Bright and his radical work, which redefined Scottish theatre in the late 1980s.
Please join Director Stewart Laing and Writer Pamela Carter for an informal post show discussion on Friday 18th October 2013. The discussion will be facilitated by Christine Hamilton, Chair of Untitled Projects.
For information on the workshop 'Writing for Live Performance from and Existing Source' led by Pamela Carter and Stewart Laing of Untitled Projects click here!
Untitled Projects has reconstructed Paul Bright's Confessions of a Justified Sinner with the actor, George Anton; lighting designer Mike Brookes; writer, Pamela Carter; cinematographer, Christopher Doyle; director, Stewart Laing; technical director, Nick Millar; artists Robbie Thomson and Jack Wrigley; and researcher, Emilia Weber.