Untitled [The Ongoing Significance of Steel and Flesh]
Terence Sharpe
Performance: 6 December Installation 6 - 13 December 2013
Performance: 21.00 Installation 11.00-18.00 daily
(30 mins)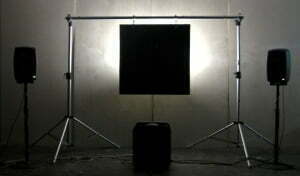 Venue: Basement Gallery I
Category:
Ticket Price: Free Ticketed
Age Group: U
A multi-channel installation for steel and electronics. Elements of a musical composition are fed into a suspended piece of steel in a darkened room. These elements resonate the steel and are dispersed back through the space in order to create an extended composition that takes place both in the room and within the metal
This installation is part of a wider research project into aesthetics of affect, where art produces a sense of pleasure and discomfort through the use of sound and/as sculpture. The aim of the installation is to demonstrate how aural phenomena manifest themselves in space and how this can affect the listener's perception. By using the space of the installation as a space for composition, the work can act to create a live agency of the listeners sense of perception with the intent of reconsidering what constitutes sensation.