What sort of economy for our future?
Edinburgh Green Party
18th September, 2013
19.00 - 21.00
(2 hours - )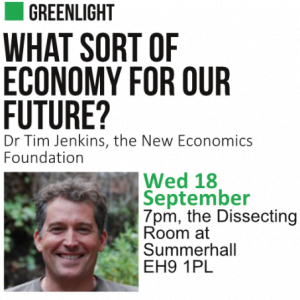 Venue: The Dissection Room
Category:
Ticket Price: Free, but donations are welcome
Age Group: 14+
The British Government and the Opposition both seem to have no idea how to get out of this economic depression. One suggests austerity, hitting the poorest hardest and throwing millions into unemployment as the economy nosedives. The other suggests almost the same policies, but cutting a little slower.
Are there better ideas for tackling this economic slump? Would independence give Scotland special opportunities to develop a fairer economy?
Tim Jenkins from the new economics foundation will discuss some of the ideas which nef has been developing, about how to move to a better, more sustainable economic model.
Click here or more information.