Aki Onda and Guests (Now John Chantler + Guests)
Braw Gigs & Summerhall
Fri 21 Feb 2014
20:00 - 22:30
(2h 30mins)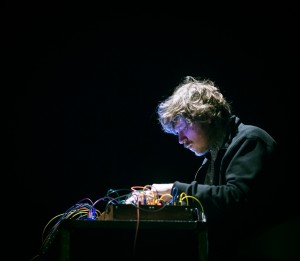 Venue: Anatomy Lecture Theatre
Category:
Tagged:
Braw Gigs
Ticket Price: £7.00
Age Group: 18+
Braw Gigs and Summerhall Present: Aki Onda & Guests
UPDATE: Unfortunately, Aki Onda will no longer be performing tonight due to a last minute cancellation.  However this show will still go on with Eight Thumbs and Alex South instead. John Chantler from Cafe Oto has kindly stepped in at the last minute and will be performing tonight too – so it should still be a great night of music. Apologies for the late notice cancellation of Aki's performance.
John Chantler:
Originally from Australia but now a long-time UK resident after a stint in Japan, Chantler will release his third solo LP for the ROOM40 label in May 2014. 'Even Clean Hands Damage the Work' (recorded for the most part at the hallowed EMS studios in Stockholm) follows 'The Luminous Ground' – released in 2011 and included in The WIRE magazine's top releases of that year. That was his first LP release focusing on the analog/digital modular synth system he first explored as part of the trio LP with Lawrence English and Tujiko Noriko – 2009′s 'U'. The second volume in his Automatic Music series was released in January 2014 via The Tapeworm. Live, he patches a versatile system capable of self-generated, shifting patterns of sliding arpeggios and visceral noise, pointillist interjections and infinitely variable texture.
Aki Onda is an electronic musician, composer, and visual artist. He is particularly known for his Cassette Memories project – works compiled from a "sound diary" of field-recordings collected by Onda over a span of two decades. Onda's musical instrument of choice is the cassette Walkman. Not only does he capture field recordings with the Walkman, he also physically manipulates multiple Walkmans with electronics in his performances. In another of his projects, Cinemage, Onda shows slide projections of still photo images, shot by himself, as a performance or installation. Onda has collaborated with artists such as Michael Snow, Ken Jacobs, Paul Clipson, Alan Licht, Loren Connors, MV Carbon, Oren Ambarchi, Noël Akchoté, Jean-François Pauvros, Jac Berrocal, Lionel Marchetti, Linda Sharrock, and Blixa Bargeld.
Support will come from EightThumbs and Alex South.
EightThumbs is an improvisation quartet featuring Jer Reid (guitar), Fritz Welch (percussion/voice), Dougal Marwick (presets) and Shane Connolly (drums). They fly by the seat of their pants, pack no punches and their extemporising fluctuates from teeny-weeny intricacies to boisterous baloney.
Clarinettist Alex South (The One Ensemble, Scottish Clarinet Quartet) performs Evan Ziporyn's Impersonations alongside Steve Reich's New York Counterpoint, a genre-defining work for multiple clarinets in which the solo line is performed live against ten previously-recorded parts.