ANATOMY #8: HAPPY RAINBOW RADIO FUNTIME SHOW
Anatomy
Fri 14 March 2014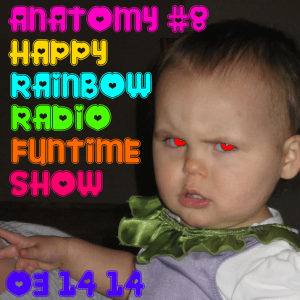 Venue: Anatomy Lecture Theatre
Category:
""ANATOMY shows us its "working progress" without shame. The audience enjoys it more than storytelling, because we empathise with the honest act of improvisation. We are attending to something alive, which will never happen again. We can feel it. It's like the human body: it sometimes stinks, it sometimes cries and it suffers pain… but, sometimes it is able to propose the most magnificent sensations.""
Random Edinburgh
Ticket Price: £6
Age Group: 16+
ANATOMY is proud to present, unwrap and turn on our March fabuloustacular live, on-stage – for one night only — HAPPY RAINBOW RADIO FUNTIME SHOW.
Bringing joy, cheer and tickling until pink to Summerhall's wonderful historical anatomy lecture theatre HAPPY RAINBOW RADIO FUNTIME SHOW brings an assortement* of performers, theatre makers, dancers, clowns, filmmakers, performance artists, manipulators of matter, poets, fairy tales, props in hand, The Incredible Moving Human Statue, chainsaw poi, mimes, music builders and destroyers, performance gastronauts, interactive spectacles: bodies, warts'n'all.
*contents may vary.