The Weather War
Bigert & Bergström
5 April- 22 May 2014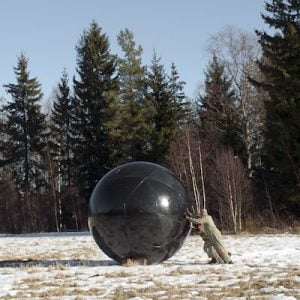 Venue: Upper Hope Park Church Gallery
Category:
Ticket Price: Free
Swedish artist duo Bigert & Bergström are obsessed with the climate and its extremes. The weather – both a trivial theme for petty conversation and a life threatening natural force – is central in their art. And they use it to pinpoint our currently exposed position living in a slowly heating lab-maze.
Together with the Canadian storm chaser and meteorologist Mark Robinson, Bigert & Bergström travelled to the Midwest in the US, to film and document the increasingly hostile weather patterns that are developing today. The Weather War centres on B&B's attempt to intercept a tornado using a device called the Tornado Diverter.
The Weather War explores the problems caused by global climate change. Asking pertinent questions such as; how do we behave to meet those challenges? Do we adapt? Or do we wage war against increasingly aggressive weather phenomena?