Christian Garrick and the Budapest Cafe Orchestra
Budapest Cafe Orchestra
Sat 14 Jun 2014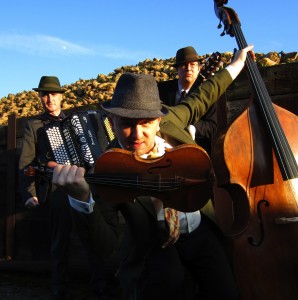 Venue: The Dissection Room
Category:
"Back by popular demand, the fiery vivacity and awe-inspiring musicianship of the finest purveyors of Eastern European gypsy music this side of a Lada scrap heap will leave you with a grin on your face and rhythm in your feet…"
The Times
"The boys from the BCO eek out an interesting advantage over others in that they are musically connected to the culture rather than culturally connected to the music and this manifests itself in their performances which are among the most fulfilling live entertainment spectacles you are ever likely to find of any genre"
BBC Celtic Connections
Ticket Price: £14
/ £12
Age Group: U
CHRISTIAN GARRICK – violin
EDDIE HESSION – accordion
KELLY CANTLON – double bass
ADRIAN ZOLOTUHIN – guitar, saz, balalaika
Joining the Ukelele Orchestra of Great Britain stands the Budapest Café Orchestra, hugely entertaining, immense skill and profound musicianship. Led by jazz violin superstar Christian Garrick The Budapest Café Orchestra play traditional folk and gypsy music from across the Balkans and Russia, Klezmer, Romanian Doinas, Hungarian Czadas and beautiful ballads such as the theme to Schindler's List. Evoking vivid images of Tzigane fiddle maestros, Budapest café life and gypsy campfires –  with a few surprises along the way –  it's good enough to make you want to book a holiday along the Danube!