Documentary Double-Bill – They Hate Me in Vain: LGBT Christians in Today's Russia + Not With Us
Edinburgh Film Guild
Sat 22 Feb 2014
18:30 - 20:50
(110 mins + 30 mins (films + Q&A))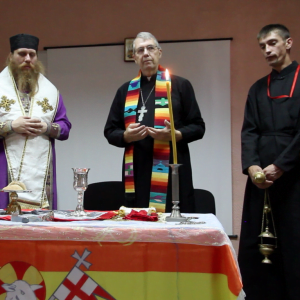 Venue: Red Lecture Theatre
Category:
Ticket Price: £5
/ £4
Age Group: 18+
Please be sure choose the right date when booking, each date is a different film.
Edinburgh Film Guild New Cinema 4 is proud to present the international premiere of They Hate Me in Vain: LGBT Christians in Today's Russia (66 min), a documentary filmed in 2013 by Moscow-born/Italian-based director Yulia Matsiy, which claims to be the first to portray the 'double minority' community of LGBT Russian Christians.
Based around longform interviews, including with some of Russia's most well-known LGBT activists, the film presents one of the most extensive looks to date into the lives and testimonies of ordinary members from any part of the country's queer community. It also presents a horrifying glimpse into the work of organised rings of Russian homophobes dedicated to repeatedly outing, shaming and physically assaulting those they've deceived and targeted.
We are delighted to confirm that director Yulia Matsiy will be able to attend this screening and discuss the making of her film.
The screening will also present the 2012 documentary Not With Us (44 min) by innovative documentarist Svetlana Sigalaeva, three of whose films are included across New Cinema 4 screenings. Not With Us takes a personal view of yet another previously-hidden aspect of Russian LGBT culture: the at times surprisingly supportive and uniquely familial community which develops within a women's prison, as seen through the eyes of a recently-released inmate.
Production of They Hate Me in Vain: LGBT Christians in Today's Russia was assisted by the Italian section of Amnesty International.
Warnings: scenes of real homophobic violence
EFG Facebook: http://www.facebook.com/EFGNewCinema