Hidden Energies
Jessica Lloyd-Jones
5 April- 23rd May 2014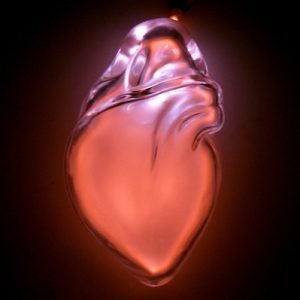 Venue: Lower Hope Park Church Gallery
Category:
Ticket Price: Free
'Hidden Energies' explores Jessica Lloyd-Jones' diverse interest in the theme of energy, including such subjects as particle physics, biological electricity and Kirlian imaging, through a range of sculptural media and moving image techniques that demonstrate a distinct fascination with natural phenomena.
One of Lloyd-Jones' earliest works 'Biosmos' is an intricate, sensory light and sound installation composed from hundreds of moving particles emitting light in the darkness. Its weightlessness and ethereal beauty appears to defy gravity, hypnotically energising the space.
Lloyd-Jones' blown glass 'Anatomical Neon' sculptures are also on show, revealing delicate displays of electricity interacting with colourful inert gases encapsulated within. The series, which includes a heart, brain and eye, reference Lloyd-Jones' interest in biological electricity; the presence of natural electrical signals in the human body, as a vital life force within us all.
A recent moving image work entitled 'Aura' explores the development of the electromechanical machine to the modern age of computer technology. Through the creative use of Kirlian imaging, the artist has applied high voltage electricity to a variety of computer components (including a wire wound resistor, broken valve, dekatron and microchip) to produce visible electric energy fields, revealing the beauty of their auras.