Mardi Gras Alba
Return to the Hearth foundation
Sun 02 Mar 2014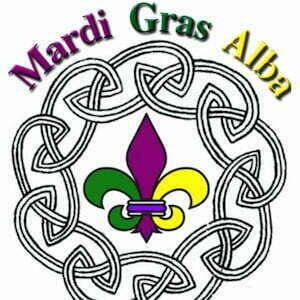 Venue: The Dissection Room
Category:
Ticket Price: Please Donate Generously at the Door.
Age Group: U
The events begins at The Pavillion Cafe from 1pm – 4pm where there will be New Orleans Red Beans and Rice, Face Painting, and general Revelry, including the dixieland sounds of The Red Hot Minute Marching Band ! As well as a jumble of Jugglers, Jesters, and Juggernauts…
Migration to Summerhall embarks at 4pm with the"Mobile Mob of Missfits" moving the party to the Dissection Room, where the evening's gala event will get underway with a throw-down super samba jam by "Commotion" ~ Edinburgh's All Women's Samba Band and joined by the astonishing feats of PyroCeltica's Mighty Mischievadors, Cacophony of Samba & Mischievadorous Chaos, Kuchke, Afzali & the bedouin belly dancers, Brass, Aye?, The Red Hot Minute Marching Band, The Katet (special New Orleans set), and the celebrated Carnival favourites The Mardi Gras All-stars, (featuring members of Orkestra del Sol, Brass, Aye?, Horn Dog Brass Band, and more).
There will be authentic New Orleans Cuisine on offer, as well as New Orleans specialty cocktails and mixers …the "Mighty Mischievador's" jesting expertise, as well as the Highly anticipated "Mary Queen of Drag Contest".
This year's theme is "Free Your Inner Goddess" ~ so don your costumes for the Masquerading event of the year and bring your open hearts and open minds, and jolly good cheer.
Also, your one and only chance to Win Round Trip Airfare to Mardi Gras 2015 in New Orleans, Louisiana! Get your Raffle tickets at Mardi Gras Alba at Summerhall on the night, so make sure you make it to the show and get your tickets for your flight!
Please donate generously at the door.