'One Hundred Blinks', film installation
Lindsay Perth
Sat 15th and Sun 16th Mar 2014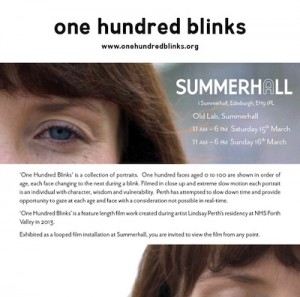 Venue: Old Lab
Category:
"'A fantastic idea, mesmerising, very moving, beautifully shot'"
"'Wonderful, very powerful'"
"'An inspirational look at humanity'"
Ticket Price: Free. Pop in any time.
Age Group: U
'One Hundred Blinks' is a collection of portraits. One hundred faces aged 0 to 100 are shown in order of age, each face changing to the next during a blink. Filmed in close up and extreme slow motion each portrait is an individual with character, wisdom and vulnerability. Perth has attempted to slow down time and provide opportunity to gaze at each age and face with a consideration not possible in real-time.
'One Hundred Blinks' is a feature length film work created during artist Lindsay Perth's residency at NHS Forth Valley in 2013.
Exhibited as a looped film installation at Summerhall, you are invited to view the film from any point.