Tip Top Presents….
Circus skills for Children
Every Friday (from 30 May 2014)
10.00 - 11.00 (under 3 years) & 11.00 - 12.00 (3 - 6 years)
(1 hour per age group)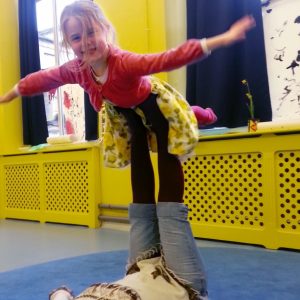 Venue: Yellow Room
Category:
Ticket Price: £4.00 (Ticket admits child plus one adult)
Calling any little stars who love to throw balls, balance on one leg, or generally climb on things. Here is a chance to do all of that, and more! Through playing with scarves, balls and rolling around on mats, we develop the skills of co-ordination, balance, listening and copying, and co-operation, beginning to add technique to enthusiasm. All the fun of the fair (and learning too). This is a workshop for parents and children.
Tutor: Suzy Enoch, Tip Top Circus
Children should attend with parents
Please wear comfortable clothes that you can move freely in.
For further info please call 0845 874 3000 or email kids@summerhall.co.uk or check out www.circusalba.co.uk