V=mc²
VOXedinburgh
28 March 2014
19:00 - 22:00
(120 - 150 mins)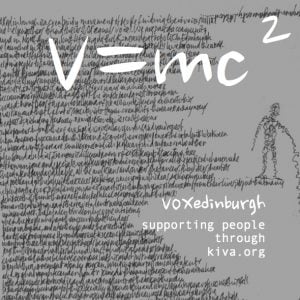 Venue: Old Lab
Category:
"For a little over two years, the VOXedinburgh community has been exploring ways of being creative and generous (there's always a third party to benefit - home and overseas) with enjoyment. In 2014 there's something new to try as new art mediums are added and who know what will be produced. Whatever it is, it will make the world a little better."
Ticket Price: £8
/ £6
Age Group: PG
V=mc² forms three explorations of energy. This second event experiences the magic of Text and Textiles coming together.
"A New Breed: Perspectives on text and subtext through the medium of textiles and performance art. The evening will include installations, performance and opportunities to interact with forthright and underlying messages."
There'll also be the announcement of the third collaboration and an opportunity to identify where the ticket money can be invested, through Kiva.org.
So, as always, we'll be making the lives of others better through Creativity, Enjoyment, and Generosity.