Wee Dub Film Screening
Wee Dub Festival
Sat 08 March 2014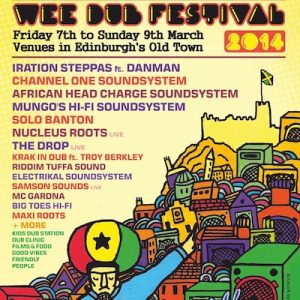 Venue: Red Lecture Theatre
Category:
""Scotland's only festival dedicated to dub and reggae music in all its forms" "
The List
Ticket Price: FREE
Age Group: PG
Wee Dub Festival takes over venues across Edinburgh from 7th to 9th March 2014 with a programme featuring top acts, workshops, and a film screening at Summerhall.
The film screening features the feature length documentaries Marley (2012) and Dub Echoes (2008) as well as a short film about Glasgow's soundsystem culture by filmmaker Bart Madjeski.
The event is free to all who want to come along.