NEHH presents… Girl Band + Goat Girl
Nothing Ever Happens Here
26th January 2017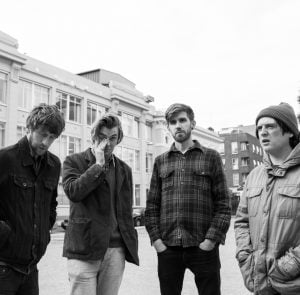 Venue: The Dissection Room
Category:
Ticket Price: £10 (advance) / £12 (doors)
Age Group: 18+
Girl Band are a four piece noise rock band from Dublin, Ireland. They are made up of Dara Kiely, Alan Duggan, Daniel Fox and Adam Faulkner .
The band formed in late 2011, released a string of singles and an EP then signed with Rough Trade Record in 2014. They released their debut album in late 2015, 'Holding Hands With Jamie', and went on to tour extensively worldwide to great critical acclaim.
"It's hard to think of another guitar-based band conjuring fear this exhilarating and volume this rapturous." – Laura Snapes, Pitchfork 

South London quartet Goat Girl signed to Rough Trade Records in Autumn last year and released their debut single in October, 'Country Sleaze / Scum'.
"Curious and intensely intelligent, creating humorous, and literate, scathingly satirical lyrics on society and politics, alongside discordant, repetitive sounds. The vocals are so soothing to the ear, like honey is to a harsh ill torn throat." – Nicholas Ellis, Artistas Sean Unidos