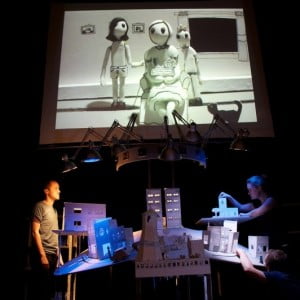 Week One – Summerhall picks up its first Scotsman Fringe First Award. Tortoise in a Nutshell in co-production with Cumbernauld Theatre received a Fringe First Award for Feral.
"This mesmerisingly inventive show presents unrest as a symptom of public policy that puts profit ahead of community." ★★★★ Mark Fisher
2013 with Feral is the company's third year at the Festival Fringe, and tells the story of a small seaside town using a cast of hundreds and a white set complete with helter skelter and arcade. Exploring what happens when community turns in on itself and how that comes about, the company manipulate tiny puppets around their home town, relaying parts of the action onto a large screen above the stage, picking out detail from the hairdressers to the butcher, baker and Victorian lighting emporium.

Feral is on in the Demonstration Room every day except for Tuesdays at 8pm until August 25.