By Anu Selva-Thomson,  Head of Education and Children's Programme
This year, Summerhall's programme for children explores a wide array of themes. From politics, gender, literature and science to questions about self, other, life , responsibility and even death, our programme attempts to engage young audiences with the sorts of ideas that the world around them is constantly engaged with – the sorts of ideas that will shape the kind of 'grown-ups' they will become.
I have incredible respect for the people who make work for children. The best work comes from a deep commitment to honesty, hope, responsibility and most importantly (and admirably) to taking risks. The companies that are performing children's work at Summerhall this festival do all of the above and often, with a simple and unassuming elegance.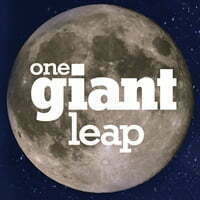 One Giant Leap, by Wee Stories is a play for young audiences ten years and up and very cleverly challenges the very fundamentals of our formal education system asking questions about what knowledge really is and how important it is to contextualize what we teach and learn – epistemic questions that we all need to carefully consider, regardless of age.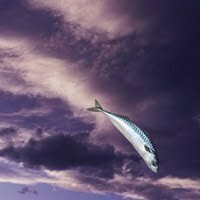 Titus, by Macrobert, is a powerful piece that revolves around a young boy standing on the roof of a building contemplating whether to jump. It's a courageous piece of work that doesn't shy away from showing young audiences how delicate life can be and it was an absolute delight watching a young boy of about 8 give it a standing ovation, all on his own accord.
L'apres-midi d'un Foehn- Version 1 by Company Non Nova is a breathtaking piece of work. Amongst the many things that this work is, it is also a homage to artistry and fragility and to the brutality and transience that can often accompany beauty. It's a risky piece of work for audiences of 5+ because adults expect children's work to end 'happily ever after'.  Must it always though? It was wonderful seeing children leave this show asking a myriad of 'why?' questions and to hear so many dedicated parents really engaging with their children about the ideas the performance raised.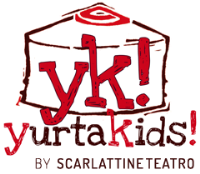 Yurtakids selection of Italian work is again, incredibly diverse.  Unleashed _Scatenati  by Scarlettine Teatro might too hastily be reduced by some as a potential health and safety risk but the idea of creating an environment of tranquility and reproducing sounds reminiscent of the mother's womb solely with (safe and secure!) chains, items we often associate with danger,  is not only inventive but also sheds light on the way people somehow manage to  find ways to stereotype just about everything. The Story of a Man and his Shadow by Principio Attivo Teatro explores mortality through mime and clowning – wonderfully clever, as it unearths those subtle links between comedy and tragedy. Cinderella by Factory Compagnia retells the story of Cinderella drawing inspiration from traditional Commedia dell'arte but delving into gender and body politics – a shy and awkward prince, a stepmother in drag, on stilts, who 'hovers' over the stage and audience, ugly sisters who represent what is ugly about society's expectations of women (insert a few jokes about ample or lacking  bosoms and buttocks) and a fairytale 'princess' who makes the first move on Prince Charming! Yurtakids! two other shows The Red Bike and 24583 Little Creepy Wonders similarly explore social and political themes.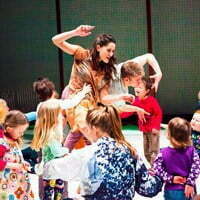 Fleur Darkin who choreographed Scottish Dance Theatre's Innocence, told me how important it was to her to study and incorporate the early learning pedagogies of Jean Piaget and Jerome Bruner in the work. The belief that children have an innate capacity to make sense of the world and that they possess the ability to interact with their environments in intelligent and highly cognitive ways is very much in line with the early childhood philosophies we are inspired by here at Summerhall. Scottish Dance Theatre's commitment to devising and developing this beautiful work for children so that it extends beyond just the time they spend in the theatre is highly laudable.
Our audiences have had a host of incredibly supportive comments and praise for the companies we are working with this year and our thanks go out to them and all the reviewers who have picked up on these themes and celebrated the shows. As always, we are honoured and humbled (yet again) to encounter artists who make work that is courageous and meaningful. We have another week to go before the festival comes to a close, we hope you'll come, with your families, to contribute to the wonderful vibe here at Summerhall.