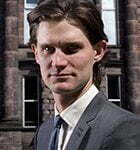 The results are in for this year's h.Club100, a search for the most innovative creatives working in the UK today.
The h.Club100 in association with the Guardian Culture Professionals Network is the Hospital Club's annual search for the most influential, innovative and interesting people in the creative and media industries.
A total of 300 individuals made it to the shortlist for this year's list, and over the past four weeks the public have been voting to determine who makes the final cut. The results were announced last night at a ceremony in London.
Rupert, the only Scotland based creative on the list, has made it to the final 10 in the Theatre and Performance category alongside the likes of actor Helen Mirren.