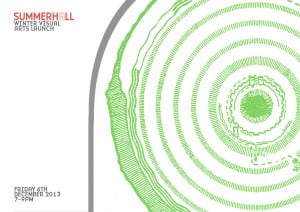 Join us on the 6th December between 7-9pm for the launch of Summerhall's Winter Visual Arts programme.
An opportunity to explore Summerhall and meet the artists and members of staff involved in the exhibitions.
To continue the evening's celebrations Summerhall is hosting Glasgow's 85A Collective's provocative 'Renegade Maskerrade' – an explosive barrage of highly charged live performances, knee-dropping music and blood pulsing DJs… featuring: 'Jacob Yates & The Pearly Gate Lock Pickers' – an hypnotic 'Doom-wop' band of towering rhythm + stentorian sound! Refreshments will be provided by The Royal Dick Bar and Edinburgh's Narcissus Flowers and Plants have supported the event with unique and inspirational floral arrangements.
Exhibitions include:
The Dark Would
The world premiere of the text-art exhibition The Dark Would, curated by text-poet Philip Davenport. Internationally acclaimed artists and poets explore the puzzle of living and dying in The Dark Would. Includes work by: Fiona Banner, Richard Long, Simon Patterson, Susan Hiller, Tony Lopez, Sarah Sanders, Jenny Holzer, Richard Wentworth, Caroline Bergvall, Ron Silliman, Mike Chavez-Dawson, Lawrence Weiner – and many others.
There will be performances during the launch by Sarah Sanders and Stephen Emmerson.
Jerry's Map
The first exhibition of this internet sensation outside of the USA, Jerry's Map is 50 years in the making. It is a sublime fictitious world continually evolving through the imagination and creativity of Jerry Gretzinger.
We also have exhibitions from current and previous studio holders. Deirdre Nicholls sculptural busts in Beyond Surface: In Search for the Soul and Sally Webber presents installation works in An Inexact Science. 
We have a wide ranging programme featuring international as well as Scottish-based artists such as Ryoko Tamura whose exhibition Funch appeals equally to adults as well as children to 1950s subculture photographs by Julie Howden in The Throwbacks: Obsessed about the 50s.
The programme spans both contemporary and historical art. Manchester's Two Little Birds produce Boys Keep Swinging, a group exhibition centred upon current societal issues from the male perspective to a collection of romantic minimalist James Lee Byars ephemera from the Heart Fine Art collection based at Summerhall.
 We hope you are able to join us for this December event highlight!